Ebooks: Top Ten Books of 2013
The editors of the New York Times Book Review recently announced their selection of five fiction and five nonfiction titles as the top ten books of 2013. Nine of the ten are available in the New Canaan Library's OverDrive ebook collection. If the ebook you want is checked out, you can place a hold. You will receive an email when the ebook is available for you to download. Here's the list, including the summary of each book as given in the Times:
Top five fiction, alphabetical by title:
AMERICANAH, by Chimamanda Ngozi Adichie.
By turns tender and trenchant, Adichie's third novel takes on the comedy and tragedy of American race relations from the perspective of a young Nigerian immigrant. From the office politics of a hair-braiding salon to the burden of memory, there's nothing too humble or daunting for this fearless writer, who is so attuned to the various worlds and shifting selves we inhabit — in life and online, in love, as agents and victims of history and the heroes of our own stories.
THE F
LAMETHROWERS, by Rachel Kushner: (This book is part of the library's print book collection but is not yet available as an ebook)
Radical politics, avant-garde art and motorcycle racing all spring to life in Kushner's radiant novel of the 1970s, in which a young woman moves to New York to become an artist, only to wind up involved in the revolutionary protest movement that shook Italy in those years. The novel, Kushner's second, deploys mordant observations and chiseled sentences to explore how individuals are swept along by implacable social forces.
THE GOLDFINCH. by Donna Tartt. Tartt's intoxicating third novel, after "The Secret History" and "The Little Friend," follows the travails of Theo Decker, who emerges from a terrorist bombing motherless but in possession of a prized Dutch painting. Like the best of Dickens, the novel is packed with incident and populated with vivid characters. At its heart is the unwavering belief that come what may, art can save us by lifting us above ourselves. Also available in OverDrive as a downloadable audiobook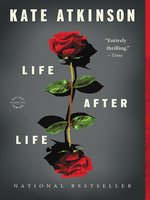 LIFE AFTER LIFE, by Kate Atkinson.
Demonstrating the agile style and theatrical bravado of her much-admired Jackson Brodie mystery novels, Atkinson takes on nothing less than the evils of mid-20th-century history and the nature of death as she moves back and forth in time, fitting together versions of a life story for a heroine who keeps dying, then being resurrected — and sent off in different, but entirely plausible, directions.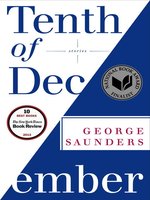 TENTH OF DECEMBER: STORIES, by George Saunders.
Saunders's wickedly entertaining stories veer from the deadpan to the flat-out demented: Prisoners are force-fed mood-altering drugs; ordinary saps cling to delusions of grandeur; third-world women, held aloft on surgical wire, become the latest in bourgeois lawn ornaments. Beneath the comedy, though, Saunders writes with profound empathy, and this impressive collection advances his abiding interest in questions of class, power and justice.
Top five nonfiction, alphabetical by title: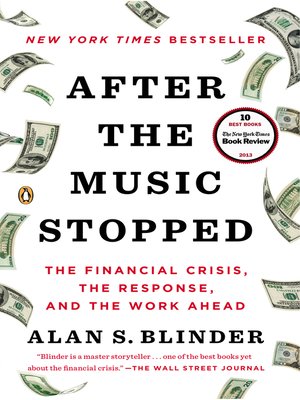 AFTER THE MUSIC STOPPED: The Financial Crisis, the Response, and the Work Ahead, by Alan S. Blinder.
Blinder's terrific book on the financial meltdown of 2008 argues that it happened because of a "perfect storm," in which many unfortunate events occurred simultaneously, producing a far worse outcome than would have resulted from just a single cause. Blinder criticizes both the Bush and Obama administrations, especially for letting Lehman Brothers fail, but he also praises them for taking steps to save the country from falling into a serious depression. Their response to the near disaster, Blinder says, was far better than the public realizes.
DAYS OF FIRE: Bush and Cheney in the White House, by Peter Baker.
Baker succeeds in telling the story of the several crises of the Bush administration with fairness and balance, which is to say that he is sympathetic to his subjects, acknowledging their accomplishments but excusing none of their errors. Baker, the chief White House correspondent for The Times, is fascinated by the mystery of the Bush-­Cheney relationship, and even more so by the mystery of George W. Bush himself. Did Bush lead, or was he led by others? In the end, Baker concludes, the "decider" really did decide.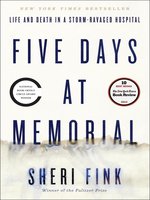 FIVE DAYS AT MEMORIAL: Life and Death in a Storm-Ravaged Hospital,
by Sheri Fink.
In harrowing detail, Fink describes the hellish days at a hospital during and after Hurricane Katrina, when desperate medical professionals were suspected of administering lethal injections to critically ill patients. Masterfully and compassionately reported and as gripping as a thriller, the book poses reverberating questions about end-of-life care, race discrimination in medicine and how individuals and institutions break down during disasters.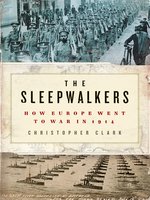 THE SLEEPWALKERS: How Europe Went to War in 1914, by Christopher Clark.
Clark manages in a single volume to provide a comprehensive, highly readable survey of the events leading up to World War I. He avoids singling out any one nation or leader as the guilty party. "The outbreak of war," he writes, "is not an Agatha Christie drama at the end of which we will discover the culprit standing over a corpse." The participants were, in his term, "sleepwalkers," not fanatics or murderers, and the war itself was a tragedy, not a crime.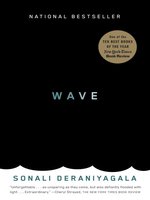 WAVE, by Sonali Deraniyagala.
On the day after Christmas in 2004, Deraniyagala called her husband to the window of their hotel room in Sri Lanka. "I want to show you something odd," she said. The ocean looked foamy and closer than usual. Within moments, it was upon them. Deraniyagala lost her husband, her parents and two young sons to the Indian Ocean tsunami. Her survival was miraculous, and so too is this memoir — unsentimental, raggedly intimate, full of fury.