Featured New Teen Lit for December 2010
The Painted Boy by Charles de Lint
YA Fiction
High-schooler Jay Li finds himself in the Arizona desert performing dangerous feats as part of his journey to prove himself a worthy member of the part human, part dragon Yellow Dragon Clan.
The Body Finder by Kimberly Derting
YA Fiction
High school junior Violet uses her uncanny ability to sense murderers and their victims to try to stop a serial killer who is terrorizing her town, and although her best friend and would-be boyfriend Jay promises to keep her safe, she becomes a target.
Payback Time by Carl Deuker
YA Fiction
Overweight, somewhat timid Mitch reluctantly agrees to be the sports reporter for the Lincoln High newspaper because he's determined to be a writer, but he senses a real story in Angel, a talented football player who refuses to stand out on the field--or to discuss his past.
Crescendo by Becca Fitzpatrick
YA Fiction
In this sequel to Hush, Hush, sixteen-year-old Nora Grey struggles to face the truth while coping with having a fallen angel boyfriend named Patch and unraveling the mystery surrounding her father's death.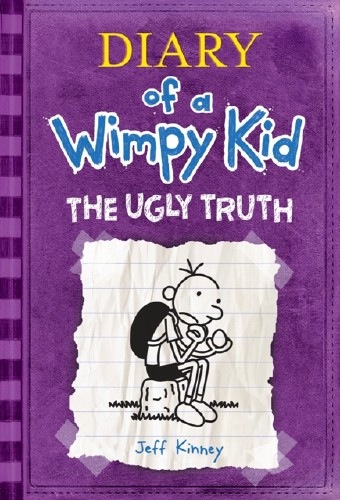 Diary of a Wimpy Kid: The Ugly Truth (#5) by Jeff Kinney
YA Fiction, J Fiction
While trying to find a new best friend after feuding with Rowley, middle-school slacker Greg Heffley is warned by older family members that adolescence is a time to act more responsibly and to think seriously about his future.
Hero by Mike Lupica
YA Fiction
Fourteen-year-old Zach learns he has the same special abilities as his father, who was the President's globe-trotting troubleshooter until "the Bads" killed him, and now Zach must decide whether to use his powers in the same way at the risk of his own life.
Pegasus by Robin McKinley
YA Fiction
Because of a thousand-year-old alliance between humans and pegasi, Princess Sylvi is ceremonially bound to Ebon, her own pegasus, on her twelfth birthday, but the closeness of their bond becomes a threat to the status quo and possibly to the safety of their two nations.
Three Quarters Dead by Richard Peck
YA Fiction
Sophomore loner Kerry is overjoyed when three popular senior girls pick her to be in their clique, until a shocking accident sets off a string of supernatural occurrences that become more and more threatening.
The Ring of Solomon by Jonathan Stroud
YA Fiction
Takes place before the Bartimaeus trilogy. Wise-cracking djinni Bartimaeus finds himself at the court of King Solomon with an unpleasant master, a sinister servant, and King Solomon's magic ring.
Adios, Nirvana by Conrad Wesselhoeft
YA Fiction
As Seattle sixteen-year-old Jonathan helps a dying man come to terms with a tragic event he experienced during World War II, Jonathan begins facing his own demons, especially the death of his twin brother, helped by an assortment of friends, old and new.
Paranormalcy by Kiersten White
YA Fiction
When a dark prophecy begins to come true, sixteen-year-old Evie of the International Paranormal Containment Agency must not only try to stop it, she must also uncover its connection to herself and the alluring shapeshifter, Lend.
Zombies vs. Unicorns compiled by Holly Black and Justine Larbalestier
YA Fiction (shelved by title)
Twelve short stories by a variety of authors seek to answer the question of whether zombies are better than unicorns. Includes contributions from Garth Nix, Carrie Ryan, Margo Lanagan, Maureen Johnson, Scott Westerfeld, Meg Cabot, Cassandra Clare, and Libba Bray.
The Red Umbrella by Christina Diaz Gonzalez
YA Fiction, J Fiction
In 1961 after Castro has come to power in Cuba, fourteen-year-old Lucia and her seven-year-old brother are sent to the United States when her parents, who are not in favor of the new regime, fear that the children will be taken away from them as others have been.
Sugar Changed the World by Marc Aronson and Marina Budhos
394.12 A
From the slave trade through abolition; from revolutions (American, French, and Haitian) to the Louisiana Purchase; from the decline of honey to the rise of saccharine, these events and many more are directly traced to the cultivation and production of sugar cane around the world. Demonstrates how this one crop, with its unique harvesting needs, helped to bring about a particularly brutal incarnation of slavery.
Lebron James: The Making of an MVP by Terry Pluto and Brian Windhorst
796.323 P
An inside look at each stage of LeBron's development--how his childhood shaped his personality and sparked his drive to succeed; how budding stardom in high school challenged him to grow up fast; how his first steps in the NBA weren't always easy; how he quickly grew into a forceful team leader in the NBA and on Team USA; and how he now works relentlessly to improve his game.
Decoded by Jay-Z
Adult Biography
A memoir detailing the story of a man who was born in a Brooklyn housing project, spent his teen years dealing drugs on the streets of Trenton, New Jersey, and grew up to be one of his generation's most successful artists and businessmen. An intensely personal homage to hip-hop, as written by a man who so clearly adores the art form.
Bleach Vol. 32 by Tite Kubo
Manga
After healing Ichigo's terrible wounds so that he can face the diabolic Grimmjow at full strength, Orihime must watch from the sidelines as the two battle. Orihime tries to convince herself Ichigo will be all right, but she can't help but be worried about him. And when Grimmjow taunts Ichigo into releasing his Hollow self, her confidence in her friend begins to waver. Has their time in the realm of the Hollows changed them both too much?
Hellboy: Masks and Monsters by Mike Mignola and Scott Benefiel
GN H
Two incredible crossover tales. First, Hellboy joins forces with Batman and Starman in an adventure that takes them from the rooftops of Gotham to the steamy jungles of the Amazon, to rescue the first Starman, Ted Knight, from a secret Nazi organization that plans to use him to resurrect an elder god. Next, Hellboy travels to Arcadia in search of Ghost, a spectral vigilante caught up in a web of intrigue orchestrated by an ancient mask.
Percy Jackson & The Olympians, Book 1: The Lightning Thief: the Graphic Novel by Rick Riordan and Robert Venditti
GN P
After learning that he is the son of a mortal woman and Poseidon, god of the sea, twelve-year-old Percy is sent to a summer camp for demigods like himself, and joins his new friends on a quest to prevent a war between the gods.
Stan Lee's How to Draw Comics by Stan Lee
GN 741.5 L
Stan Lee sets out to teach everything he knows about drawing and comic book characters. Focuses primarily on action-adventure comics, but also touches upon other genres and styles, such as romance, humor, horror, and the widely influential manga style. From producing concepts and character sketches to laying out the final page of art.