New Graphic Novels for May
Here's a selection of some of our newest titles -- be sure to look for more of your favorites in the YA area!!
The Avengers : Heroic age (GN / MARVEL) -- Iron Man, Thor and Captain America have been the Avengers' heart and soul since the team's earliest days. But in the wreckage of Asgard, they find themselves squabbling over old wounds. As unstable magics cast the heroes-at-odds into the scattered Nine Realms, they quickly realize the world in which they're trapped is not how it should be. Can they come together and put it right? Then, as the three heroes re-forge the Avengers with the likes of Hawkeye, Spider-Man, Wolverine and Spider-Woman, Kang returns from the future bearing ill tidings of a force so powerful even he can't conquer it!
Uglies : Shay's story (GN / U) -- After befriending the Crims, a group of fellow teens who refuse to take anything in society at face value, Shay starts to question the whole concept of being transformed from an ordinary "Ugly" into a paragon of beauty. And as the Crims explore beyond the monitored borders of Uglyville into the forbidden, Shay must choose between the perks of being Pretty and the rewards of being real.
Blue Exorcist. Volume 7 (GN / MANGA) -- Raised by Father Fujimoto, a famous exorcist, Rin Okumura never knew his real father. One day a fateful argument with Father Fujimoto forces Rin to face a terrible truth--the blood of the demon lord Satan runs in Rin's veins! Rin swears to defeat Satan, but doing that means entering the mysterious True Cross Academy and becoming an exorcist himself. Can Rin fight demons and keep his infernal bloodline a secret? It won't be easy, especially when drawing his father's sword releases the demonic power within him.
Batman, Incorporated (GN / DC) -- The war on crime is about to go global. Returned from a fate worse than death and once again wearing the mantle of the Bat, Bruce Wayne is no longer merely Batman's secret identity. Now he's the public face and financier of Batman, Inc.-- a worldwide army of like-minded crimefighters sworn to protect society from its own worst elements. From Tokyo to Paris, from Argentina to Australia, from war-torn African villages to poverty-stricken Native American reservations, a network of Dark Knights is taking the fight to the enemy-- and evil has no place to hide. Or does it?
Sita's Ramayana (GN / 891.2 A) -- This version of the The Ramayana is told from the perspective of Sita, the queen. It is an allegorical story that contains important Hindu teachings, and it has had great influence on Indian life and culture over the centuries.
Tina's mouth : an existential comic diary (GN / T) -- Tina Malhotra, a sophomore at the Yarborough Academy in Southern California, creates an existential diary for an honors English assignment in which she tries to determine who she is and where she fits in.
Bakuman. Vol. 10, Visualization and imagination (GN / MANGA) -- Moritaka and Akito will need to come up with an amazing new manga idea if they ever hope to get back into Weekly Jump magazine, and they only have six months to do it! But with Hattori, their former editor, helping behind the scenes, the duo might have everything in place to create the perfect story.
Skullkickers. 1000 opas and a dead body (GN / S) -- Two nameless mercenaries are mashing monsters and making a name for themselves -- entangled in a high-class assassination plot, and nothing - werewolves, skeletons or black magic - will stop them from getting paid.
Avatar, the last airbender : the Promise. Part one (GN / MANGA) -- Picking up exactly where Avatar: The Last Airbender left off, The Promise takes Aang to a Fire Nation colony in the heart of the Earth Nation, where tensions between neighbors threaten to shatter the world's newfound peace-putting the Avatar on a collision course with one of his closest friends, FireLord Zuko.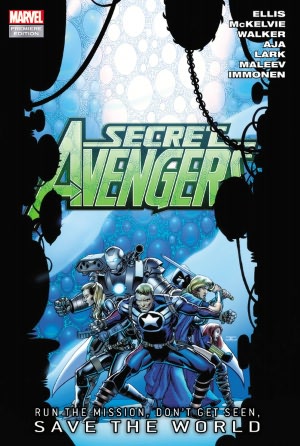 Secret Avengers. Run the mission, don't get seen, save the world (GN / MARVEL) -- A secret city buried a mile under America is discovered through the leakage of Von Doom radiation--a type of energy emitted only by time-travel devices. The Secret Avengers hea underground to a weird metropolis forgotten for decades, because a time machine in the wrong hands is the worst kind of WMD imaginable. Then: MI:13 learns that people are being abducted from villages in the former Yugoslavia--but the British government refuses to act on it. Even the added strength of War Machine and Valkyrie cannot prepare the Secret Avengers for the next level in bioterror.
The girl who owned a city (GN / G) -- When a plague sweeps over the earth killing everyone except children under twelve, ten-year-old Lisa organizes a group to rebuild a new way of life.
Annie Sullivan and the trials of Helen Keller (GN / B SULLIVAN) -- In Annie Sullivan and the Trials of Helen Keller, author and illustrator Joseph Lambert examines the powerful bond between teacher and pupil, forged through the intense frustrations and revelations of Helen's early education. The result is an inspiring, emotional, and wholly original take on the story of these two great Americans.
Black butler. Volume 9 (GN / MANGA) -- Earl Ciel Phantomhive's quietude is interrupted as Queen Victoria's very own butlers commandeer Phantomhive Manor for a lavish banquet sanctioned by Her Majesty. Preparations for such an event are quick work in the hands of Sebastian, the house's most able butler, but corralling the eminent guests may prove to be rather more of a challenge. For this dinner party is anything but festive, and as a stormy night batters the outside of the grand residence, a far more violent storm begins to unfurl within. And no one is safe from the havoc it will wreak-not even one seemingly impervious manservant...