Teens' Top Ten 2011
The Teens' Top Ten is a "teen choice" list where teens across the country vote for their favorite books they read in the previous year. In 2011 more than 9,000 teens voted!
Clockwork Angel by Cassandra Clare
When sixteen-year-old orphan Tessa Fell's older brother suddenly vanishes, her search for him leads her into Victorian-era London's dangerous supernatural underworld, and when she discovers that she herself is a Downworlder, she must learn to trust the demon-killing Shadowhunters if she ever wants to learn to control her powers and find her brother.
Mockingjay by Suzanne Collins
Against all odds, Katniss Everdeen has survived the Hunger Games twice. But now that she's made it out of the bloody arena alive, she's still not safe. A revolution is unfolding, and it is up to Katniss to accept responsibility for countless lives and to change the course of the future of Panem.
Crescendo by Becca Fitzpatrick
Sixteen-year-old Nora Grey struggles to face the truth while coping with having a fallen angel boyfriend named Patch and unraveling the mystery surrounding her father's death.
I Am Number Four by Pittacus Lore
In rural Ohio, friendships and a beautiful girl prove distracting to a fifteen-year-old who has hidden on Earth for ten years waiting to develop the Legacies, or powers, he will need to rejoin the other six surviving Garde members and fight the Mogadorians who destroyed their planet, Lorien.
The Iron King by Julie Kagawa
Something has always felt slightly off in Meghan's life, ever since her father disappeared before her eyes when she was six. When a dark stranger begins watching her from afar, and her prankster best friend becomes strangely protective of her, Meghan senses that everything she's known is about to change. But she could never have guessed the truth—that she is the daughter of a mythical faery king and is a pawn in a deadly war.

Matched by Ally Condie
All her life, Cassia has never had a choice. The Society dictates everything: when and how to play, where to work, where to live, what to eat and wear, when to die, and most importantly to Cassia as she turns 17, who to marry. When she is Matched with her best friend Xander, things couldn't be more perfect. But why did her neighbor Ky's face show up on her match disk as well?
Angel: A Maximum Ride Novel by James Patterson
Heartbroken after her best friend and soul mate, Fang, leaves her flock, Maximum Ride begins to believe the evil scientists trying to convince her she needs to save the world, and that Dylan, the newest member of her flock, is her perfect mate.
Paranormalcy by Kiersten White
When a dark prophecy begins to come true, sixteen-year-old Evie of the International Paranormal Containment Agency must not only try to stop it, she must also uncover its connection to herself and the alluring shapeshifter, Lend.
Before I Fall by Lauren Oliver
After she dies in a car crash, teenage Samantha relives the day of her death over and over again until, on the seventh day, she finally discovers a way to save herself.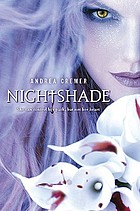 Nightshade by Andrea Cremer
Calla and Ren have been raised knowing it is their destiny to mate with one another and rule over their shape-shifting wolf pack, but when a human boy arrives and vies for Calla's heart, she is faced with a decision that could change her whole world.