Friends' Lunch Bunch Book Discussion - May
Category: Book Groups & Discussions
Location: Adrian Lamb Room
Join us with the authors of Deep Creek, Anne Matthews and Will Howarth, for a discussion of their book. Lunch will be served and reservations are a must.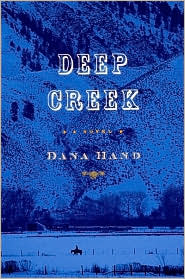 Idaho Territory, June 1887. A small-town judge takes his young daughter fishing, and she catches a man. Another body surfaces, then another. The final toll: over 30 Chinese gold miners brutally murdered. Their San Francisco employer hires Idaho lawman Joe Vincent to solve the case.
Soon he journeys up the wild Snake River with Lee Loi, an ambitious young company investigator, and Grace Sundown, amétismountain guide with too many secrets. As they track the killers across the Pacific Northwest, through haunted canyons and city streets, each must put aside lies and old grievances to survive a quest that will change them forever.
Deep Creekis a historical thriller inspired by actual events and people: the 1887 massacre of Chinese miners in remote and beautiful Hells Canyon, the middle-aged judge who went after their slayers, and the sham race-murder trial that followed. This American tragedy was long suppressed and the victims nearly forgotten;Deep Creekteams history and imagination to illuminate how and why, in a seamless, fast-moving tale of courage and redemption, loss and love.