New Educational DVD's for Kids
THOMAS JEFFERSON JDVD / JB JEFFERSON He lived during a time of great conflict and war -- but he is most famous for fighting battles with a pen rather than a sword. In Thomas Jefferson, kids will examine the life of the statesman who wrote one of the world's greatest documents -- the Declaration of Independence -- and, in turn, helped form the very country we live in today. From his days in colonial Virginia to his election as president of the United States, kids will discover Jefferson's many contributions to American society, including the development of the Library of Congress, the capital of our nation, Washington D.C., and the great western expanse of North America that he felt compelled to explore.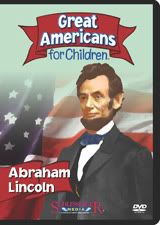 ABRAHAM LINCOLN JDVD / JB LINCOLN Beginning in 1861, the Civil War divided the country, pitting "brother against brother" in a conflict that threatened to permanently divide the union. If not for the dedication and firm resolve of Abraham Lincoln to maintain the Union during this difficult time, the United States might have ceased to exist. In Abraham Lincoln, kids will examine the life of this country boy from Kentucky, who rose to become President of the United States and guided his country through one of its darkest hours while speaking out against slavery at a time when many were too afraid to take a stand.

REVOLUTIONARY WAR HEROES JDVD / J 973.3 R The Revolutionary War created many heroes, including the men who would go down in history as the Founding Fathers of a new country. Yet, there were many other men, women and children whose names you might not know, but whose acts of courage helped win the war against the British. Revolutionary War Heroes focuses on the daring acts of patriotism from people such as Nathan Hale, Sybil Ludington and Molly Pitcher, and the brave military feats of Colonel Francis Marion, Captain John Paul Jones and the Black Rhode Island Regiment. Kids will see how these ordinary citizens accomplished extraordinary things, rising to the challenge when they were needed to ensure independence for the fledgling nation.
MARTIN LUTHER KING, JR. JDVD / JB KING Not that long ago, African Americans were denied basic rights and opportunities in the United States, but one man's work and dedication helped change the future of our country -- not just for African Americans, but for all Americans. In Martin Luther King, Jr., kids will take an in-depth look at the life of this civil rights leader and learn about his commitment to nonviolence in the pursuit of social change. From his days as a minister in Alabama to his role in the battle for equal rights, discover how Americans responded to the actions and words of the most influential leader of the Cicil Rights Movement.