Thursday, November 10, 2022 * 11:00am – 2:00pm * Woodway Country Club
Featuring
Madeline Miller
MADELINE MILLER grew up in New York City and Philadelphia and studied Classics at Brown University. The Song of Achilles, her first novel, was awarded the 2012 Orange Prize for Fiction and was a New York Times Bestseller. Circe, her second novel, was an instant number one New York Times bestseller, and won both the Indies Choice Best Adult Fiction of the Year Award and Best Audiobook of the Year. Circe also won an American Library Association Alex Award (adult books of special interest to teen readers), and the 2018 Elle Big Book Award. It is currently being adapted for a series with HBO Max.
For Benefactor table information Email Samantha Connell or by phone at

203-594-5006

Benefactor responses will be fulfilled in the order received with priority given to Titan and Goddess Tables.
I cannot attend this year, but would like to Support the Library
Literary Luncheon Benefit
Since 2008, the Literary Luncheon has brought our community together to celebrate a renowned author and strengthen the Library's mission; to inspire lifelong learning through innovation and discovery and to be the information and cultural center of the community. Proceeds ensure New Canaan Library will continue to provide the very best programming and collections to our community and beyond. The Literary Luncheon is a highlight of New Canaan's social calendar and a beloved annual tradition.
More Books by the Author
Sunflower Sisters
Madeline Miller
NEW YORK TIMES BESTSELLER • In the house of Helios, god of the sun and mightiest of the Titans, a daughter is born. But Circe is a strange child–not powerful, like her father, nor viciously alluring like her mother. Turning to the world of mortals for companionship, she discovers that she does possess power–the power of witchcraft, which can transform rivals into monsters and menace the gods themselves.
Threatened, Zeus banishes her to a deserted island, where she hones her occult craft, tames wild beasts and crosses paths with many of the most famous figures in all of mythology, including the Minotaur, Daedalus and his doomed son Icarus, the murderous Medea, and, of course, wily Odysseus.
But there is danger, too, for a woman who stands alone, and Circe unwittingly draws the wrath of both men and gods, ultimately finding herself pitted against one of the most terrifying and vengeful of the Olympians. To protect what she loves most, Circe must summon all her strength and choose, once and for all, whether she belongs with the gods she is born from, or the mortals she has come to love.
With unforgettably vivid characters, mesmerizing language and page-turning suspense, Circe is a triumph of storytelling, an intoxicating epic of family rivalry, palace intrigue, love and loss, as well as a celebration of indomitable female strength in a man's world
Available Formats
Lost Roses
Martha Hall Kelly
NEW YORK TIMES BESTSELLER • Greece in the age of Heroes. Patroclus, an awkward young prince, has been exiled to the kingdom of Phthia. Here he is nobody, just another unwanted boy living in the shadow of King Peleus and his golden son, Achilles.
Achilles, "best of all the Greeks," is everything Patroclus is not—strong, beautiful, the child of a goddess—and by all rights their paths should never cross. Yet one day, Achilles takes the shamed prince under his wing and soon their tentative connection gives way to a steadfast friendship. As they grow into young men skilled in the arts of war and medicine, their bond blossoms into something far deeper—despite the displeasure of Achilles' mother Thetis, a cruel sea goddess with a hatred of mortals.
Fate is never far from the heels of Achilles. When word comes that Helen of Sparta has been kidnapped, the men of Greece are called upon to lay siege to Troy in her name. Seduced by the promise of a glorious destiny, Achilles joins their cause. Torn between love and fear for his friend, Patroclus follows Achilles into war, little knowing that the years that follow will test everything they have learned, everything they hold dear. And that, before he is ready, he will be forced to surrender his friend to the hands of Fate.
Profoundly moving and breathtakingly original, this rendering of the epic Trojan War is a dazzling feat of the imagination, a devastating love story, and an almighty battle between gods and kings, peace and glory, immortal fame and the human heart.
Available Formats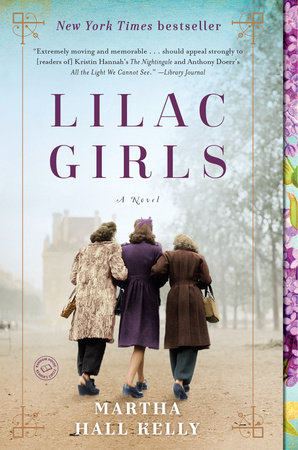 Lilac Girls
Martha Hall Kelly
NEW YORK TIMES BESTSELLER • For readers of The Nightingale and Sarah's Key, inspired by the life of a real World War II heroine, this remarkable debut novel reveals the power of unsung women to change history in their quest for love, freedom, and second chances.
Available Formats
Committee Co-Chairs

A special thank you to our wonderful Co-Chairs
Maria Magliacano
Sarah O'Keefe
Laura Prior
Abigail Skidmore
Design Lead: Michael Canoro
Committee

We are deeply grateful to this dedicated group of individuals who work tirelessly to bring this event to life. Thank you for your incredible support.
Amy Cardillo • Sarah Casey • Carrie Corcoran • Cristen Cottrell • Susan Cushman • Christine DeKlerk • Nicole Dillon • Lauren Erickson • Kara Gilliam • Meghan Gould • Ipek Kaya-Savasoglu • Meaghan Kupchak • Janet Little • Tricia McDermott • Patricia Mee • Vicky Merwin • Gillian Ozkaplan • Ashley Prymas • Lindsay Regan • Michelle Riley • Jennifer Sanders • Meg Saunders • Anne Schimmeck • Nathalie Schubert • Beth Snyder • Taryn Sonesson • Beth Stimpson • Lindsay Tucker • Anne Wagner • Elana Wood
Become a Corporate Sponsor
CORPORATE SPONSOR: We could not offer the high caliber of our special fundraising events without the support of our corporate and community sponsors. By becoming a corporate sponsor your organization will be recognized in targeted mailings, receive local print media coverage, social media coverage and much more. If you are interested in becoming a corporate sponsor for any of our upcoming events, please Email Samantha Connell or by phone at 203-594-5006.
Volunteering Opportunities
LITERARY LUNCHEON: The Literary Luncheon committee brings together a group of New Canaanites who bring their many talents to this incredible event each year. From unparalleled creative vision to business acumen, the team brings Lit Lunch to life through transformative décor, an enticing online auction and other exciting elements ensuring that the Library achieves its significant fundraising goals. This is an exciting, rewarding and dynamic experience for everyone involved in planning this annual event. Committee Volunteer
SPRING EDITION: The Spring Edition Co-Chairs (typically 2-3 individuals) help create and promote this luncheon and presentation event. From choosing the menu and décor elements to assisting with advertising outreach, this opportunity helps the Library in raising critical fundraising dollars. Committee Volunteer