Check out our awesome YA collection! We also offer a wide selection of ebooks and audiobooks, magazines, graphic novels, movies, and music through our digital library. The YA collection is for you, and we welcome and encourage you to give us your feedback and recommendations!
Digital Bookgroups
For 8th grade & up: YA Book Brunch PODCAST!
EPISODE 2: Join Teen Librarians, Kathleen & Sam, as they discuss April's book: Munmun by Jesse Andrews. Borrow the eBook or eAudiobook from Hoopla.
EPISODE 1: Join Teen Librarians, Kathleen & Sam, as they discuss March's book, Blood Water Paint by Joy McCullough. Borrow the digital book from OverDrive..
Next Up: For Episode 3, we will be reading either I, Claudia by Mary McCoy or The Hazel Wood by Melissa Albert both available through Hoopla.
For 5th – 8th grade: It's a FLIPGRID Book Club!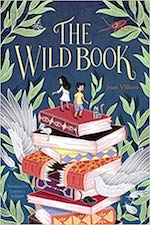 We are reading The Wild Book by Juan Villoro. Access book in our digital library Access the book digitally now!. Join us along with NCHS librarians to share thoughts about this month's read by posting responses and replies to our Flipgrid between March 16 –March 31st! Join the Flipgrid Book Club here!
Learn more about Flipgrid here.
Digital Library for Teens
Digital Book Recommendations
You can still get book recommendations from your librarians! Fill out our Reading Recommendations form for a custom digital booklist from us!